If there's one word Cheyenne Cope would use to describe her summer at W.K. Kellogg Biological Station, it would be corn.
Cheyenne is the visitor experience intern at Kellogg Bird Sanctuary. For this internship, she greets visitors to the Sanctuary, creates educational and interpretive signage, does social media posts, and helps out with educational programs. She also sells corn for visitors to feed the birds.
"Because we sell a lot of corn, the birds, like geese, know to look for corn when you walk by them," says Cheyenne.
Teaching and learning on the job
But beyond corn, Cheyenne's internship involves valuable work for the Sanctuary.
"My work is important because it educates the public about our events," says Cheyenne.
Cheyenne is a rising senior at Michigan State University. Her major is environmental biology and zoology. She enjoys the atmosphere that the Sanctuary provides.
"Everyone that I work with is really great," says Cheyenne. "And I like working with the public, so this is a good job."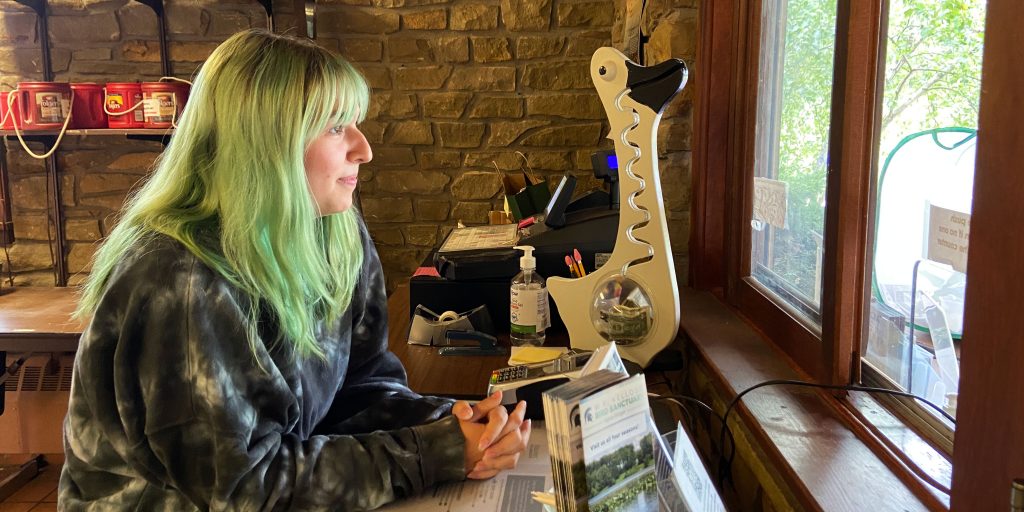 One of Cheyenne's favorite projects she worked on was the Bird Search and Seek program. She and her mentor hid 25 life-sized cutouts of different bird species around the Sanctuary. This program allowed visitors to practice their birding skills. Cheyenne has also improved her own bird identification skills through her internship.
"I've learned a lot of new-to-me birds," says Cheyenne. "I only knew a select few and now I know way more."
A 'summer camp feel'
Before the summer started, Cheyenne was hesitant about beginning a new internship.
"I didn't know what to expect, so I was nervous about pretty much everything," says Cheyenne.
However, those worries were washed away by all of the great experiences she's had so far.
"I decided to come work at KBS this summer because you get the experience with your internship, or whatever program you're doing, and you also get the camp feel of having friends doing different things," says Cheyenne. "So, you get to learn about a bunch of different stuff doing one internship."
In her free time, Cheyenne enjoys spending time on Windmill Island and going to bonfires with her newfound friends at KBS.
"I'm looking forward to hanging out and building more friendships at KBS," says Cheyenne. "And designing new programs for the Bird Sanctuary.
~~~~~~~~~~~~~~~~~~~~
Cheyenne was interviewed by Abigail Comar, the 2021 KBS external communications intern. Abigail is majoring in fisheries and wildlife and journalism at Michigan State University, with concentrations in conservation biology, environmental science and health reporting.