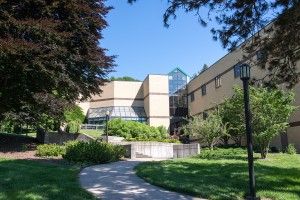 Our Mission
The mission of the W.K. Kellogg Biological Station (KBS) is to increase our understanding of natural and managed ecosystems and their linkages to society.
This entails three main integrative activities:
Facilitate and conduct fundamental and applied research in ecology, evolution, agriculture, and conservation biology.
Provide MSU students with inquiry-based educational opportunities in ecology, evolutionary biology, agriculture, and conservation biology.
Provide outreach programs that bring KBS expertise to bear on environmental issues of public importance.
Our History
KBS is Michigan State University's largest off-site campus and one of North America's premier inland field stations.
The station is named for cereal magnate W. K. Kellogg, an early 20th century entrepreneur who believed that people should use their gifts and knowledge to help others. He was also an environmentalist who understood the importance of preserving the land and its resources.
In the 1920's Kellogg established, and later donated to Michigan State College, several important facilities that became part of what is now Michigan State University's Kellogg Biological Station (KBS).
Located between Kalamazoo and Battle Creek, Michigan (about 65 miles from MSU's main campus in East Lansing), the 3,200-acre station includes W.K. Kellogg Bird Sanctuary, W.K. Kellogg Farm, KBS Academic and Research Facilities, W.K. Kellogg Conference Center and Manor House, and Lux Arbor Reserve. The nearby W.K. Kellogg Experimental Forest is closely affiliated with KBS.
World renowned for its contributions to ecological science and evolutionary biology, KBS is home to one of the National Science Foundation's Long-Term Ecological Research (LTER), and is committed to science and ecology education, conservation of natural resources and sustainable agriculture research and demonstration.
The station is overseen by MSU's College of Natural Science and the College of Agriculture and Natural Resources.