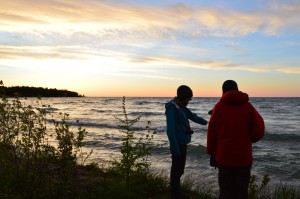 KBS offers an Undergraduate Research Apprenticeship (URA) program featuring research positions with outstanding faculty, postdocs and graduate students.
URA positions are part-time (work schedule is dependent on your KBS course schedule), and geared for early-career and community college transfer students with little to no previous research experience.
To complement their hands-on research experience, URAs are required to take a course at KBS during the summer.  KBS offers several field courses that combine classroom and outdoor research activities for a unique and engaging learning environment.  Please note that URAs are responsible for covering their MSU tuition for the course(s) taken.
What are the benefits of a URA at KBS?
Join a dynamic group of students and faculty for an authentic field research experience
Learn the process of research
Explore if a career in research is a good choice for you
Build references for your application to future programs or graduate schools
Participate in professional development seminars tailored to help undergraduate students be successful in STEM disciplines
Please check back December 15th for Summer 2018 opportunities!
If you have questions about the program or application process, please email KBSsummer@kbs.msu.edu.
Thinking about applying to the program? Check out these student blog posts!
Important Information and Forms for Summer 2017 URAs
Program Details
Dates:
This program is 11 weeks long and will run from May 21-August 5, 2017 (students are expected to arrive on-site by 5 p.m. Sunday, May 21st and depart Saturday, August 5th).
Hours:
URAs are part-time (20+ hours/week) dependent upon your KBS course load.  Specific hours will be arranged with your research mentor.
Course Requirement:
As part of your learning experience you are required to enroll in a summer field course at KBS.  URAs are responsible for paying for the MSU tuition associated with their course(s). Please contact the MSU Office of Financial Aid if you will need summer financial aid.
Compensation:
$2500 stipend + FREE shared housing + FREE meals (Breakfast: M-F, Lunch: M-F, Dinner: M-Th, Brunch: Sat-Sun)
Learning Plan and Professional Development:
All URA students work with their mentor to complete a Learning Plan, attend weekly professional development seminars, and will develop a professional blog post, and/or a professional poster presentation, abtract and "elevator speech" about their KBS research experience.
Posters will be presented at the annual KBS Summer Undergraduate Symposium and MSU's University Undergraduate Research and Arts Forum (UURAF) during the following spring semester.
***Attendance of Professional Development seminars is required as part of the URA Program.
Summer 2017 URA Positions
How to Apply
Please check back in December for Summer 2018 opportunities!
What will you need?
A PDF of your current resume
A list of all college level math and science courses taken through Spring 2018
A well-written statement of interest that highlights how this experience will enhance your learning and career goals
Please DO NOT apply separately for KBS courses unless you intend to take courses at KBS even if not selected for the program.
Preference is given to MSU students who have just completed their freshman or sophomore year, or recently transferred to MSU from a community college.
We strongly encourage applications from underrepresented groups in the sciences, and first-generation college students and US military vets. You must be a U.S. citizen, or permanent resident, with undergraduate status to participate.