The W.K. Kellogg Biological Station (KBS) is a year-round research facility of Michigan State University located in southwest Michigan, approximately 65 miles from the main campus in East Lansing. KBS includes over 1600 ha of land providing researchers with a variety of natural and managed systems in which to conduct ecological research.
Research facilities at KBS include labs and instrumentation in the main Academic Building as well as greenhouses, field labs, and a number of experimental field sites.
KBS Academic-Stack Building
The KBS Academic-Stack Building houses modern research labs, classrooms, and an MSU branch library as well as offices for faculty, postdocs, graduate students, and project staff; a biological collections room; and supporting service areas.
Service areas include dedicated spaces for microscopes, isotope counting, carbon and nitrogen analysis, and autoclaves as well as environmental chambers and labs dedicated to molecular genomics, GIS, and image analysis. Additional support areas include a computer workroom, wet and dry labs for field sample processing, and rooms for walk-in coolers and drying ovens.
Library
Computer Services
KBS Computer Services is staffed by two IT professionals who manage KBS computer and video conferencing resources. Centralized resources include file and backup services for the servers and desktop computers on the KBS gigabit fiber network. Servers are backed up nightly and backup tapes are rotated to safe storage locations in other buildings. Computer services also manages various common-use computers and printers including a poster printer.
Common-use computers include 15 MSU Microlab computers managed remotely from the main campus, which make available for teaching and research software as SAS and Mathematica.
A 1Gb fiber optic connection provides KBS access to the Michnet backbone network. Most KBS buildings are connected by fiber optic ethernet. A few others are connected to the main network by point-to-point wireless. MSUnet wireless service is available at most buildings.
Two conference rooms at KBS are equipped with Polycom HDX videoconferencing equipment.
Instrumentation
A number of analytical instruments are housed within the Academic-Stack Buildings. Common-area instrumentation includes floor centrifuges, autoclaves, a muffle furnace, sample drying ovens, walk-in coolers and incubators, a hydro-pneumatic root elutriator, and several controlled-environment chambers.
Instruments in individual faculty labs are available to researchers when possible. If you have need of a certain instrument, contact the responsible faculty member, although limitations related to sample backlogs, instrument complexity, and operating costs may sometimes restrict access.
The following equipment is maintained in individual faculty laboratories; please contact the KBS Stock Room at stockroom@kbs.msu.edu to learn who to contact for access.
Short- and long-pathlength spectrophotometers, most often used for colorimetric analyses of nutrients in surface waters and soil solutions;
Gas chromatographs equipped with TCD, FID, and ECD detectors, used for analyses of CO2, CH4, and N2O for studies of dissolved gases, gas emissions, and microbial processes;
Infrared gas absorption (IRGA) analyzers for measuring CO2 used for quantifying in situ gas fluxes and for soil and microbial incubations;
A liquid scintillation counter, used for radioisotope assays;
Field instruments to measure dissolved O2, pH, conductance, and temperature in field measurements of aquatic habitats;
A high-vacuum line and gas preparation bench for manipulation and purification of gas samples;
A Costech Model 4010 Elemental Combustion analyzer for the analysis of total carbon and nitrogen in organic matter;
A Lachat Quik Chem automated ion analyzer (Model 8500, Series 2) to measure concentrations of nitrate and ammonium in soil extracts;
A Dionex Model ICS-1000 Ion Chromatograph (IC), for analyzing ions in water samples;
A Shimadzu Model TOC-V total carbon analyzer for measuring dissolved carbon in aqueous samples;
Survey-grade GPS units for field use, including base station support.
Facilities: Research Greenhouses, Field Labs and Facilities

Molecular Ecology and Genomics Lab
Greenhouses
A 3600 sq. ft. research greenhouse is located near the Academic-Stack building. The greenhouse has seven separate growing rooms; all are equipped with 1000W high-intensity discharge (HID) lighting, microprocessor-based temperature controls, automatic rack and pinion vent controls, vent screening to reduce pest entry, and both well and reverse-osmosis water.
There is also an attached two-story head house with growth chambers and potting facilities.
A new greenhouse is located near the Plant Ecology Lab.
Greenhouse use is coordinated by Jeff Conner.
Field labs
The Terrestrial Ecology field lab provides support for sampling plant ecology experiments and includes space for sorting and drying of field samples.
The Long-term Ecological Research field lab provides convenient access to the main LTER site, and includes a sample processing workroom, plant and soil grinding equipment, a drying oven, coolers for short-term sample storage, and plant and soil archive rooms. Other agricultural research field labs include a Sustainable Agriculture Field Lab and a Dairy Research Field Lab.
The Boathouse lab is original estate's boathouse located on Gull Lake, renovated in 1980 to provide year-round research space for visiting and resident researchers. It includes a wet laboratory and dry laboratory on the ground level, and a dry laboratory and research cubicles on the upper level. Offices and labs in this building are connected to the KBS fiber optic backbone.
Experimental Ponds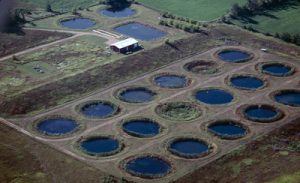 The
KBS Experimental Pond Facility
contains 18 experimental ponds, two holding ponds and a reservoir, in addition to lab space and cattle tanks for smaller experiments.
The Experimental Pond Facility is coordinated by Sarah Fitzpatrick.
W.K. Kellogg Farm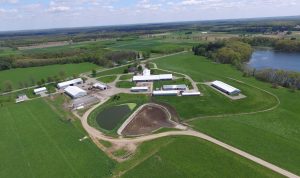 The W.K. Kellogg Farm provides agronomic support for the Pasture Dairy Center, the Michigan Cover Crops Program at KBS, the LTER program, GLBRC sustainability research and general crops research. The farm oversees all managed crop and pasture lands at KBS, and provides research access and logistical support for all agricultural research at KBS.
Kellogg Farm use is coordinated and overseen by KBS Farm Manager Dr. Brook Wilke.
Aquatic Field Sites
The KBS lands and surroundings contain an abundance of diverse lakes, ponds and wetlands. The KBS Academic Center is located on Gull Lake, one of the largest lakes in southwestern Michigan and the topic of a long history of limnological research, and nearby on KBS land is Wintergreen Lake, one of the most eutrophic lakes in the area. Nearby privately owned lakes have also been studied including Lawrence Lake, an alkaline, strongly groundwater-fed lake. Ponds and wetlands are found throughout the area and range from precipitation-fed bogs to groundwater-fed fens. Water chemistry of local waterbodies is summarized in this LTER book chapter.
The KBS Lux Arbor Reserve has a number of shallow lake and pond environments that mostly become interconnected at high water levels but retain distinct water chemistry and biota (Lux Arbor master map).
Augusta Creek, the site of numerous stream ecology investigations since the 1970s, flows through KBS and MSU lands before entering the Kalamazoo River.