The close proximity of natural and managed habitats at KBS creates an ideal setting for education, research and training programs in ecology and evolutionary biology.
An interdisciplinary resident faculty and support staff maintain year-round research activities at KBS, supporting a diversity of programs. Our modern research facilities also host seasonal use by visiting researchers and graduate students.
KBS Academic Building
The original Stack Research Building and the newer Academic Building are the primary locations of academic and research programs at the Station. The 3-story academic building was built in 1985 and the attached 2-story Stack Building was renovated in 1986. The Academic-Stack building includes 12 major research laboratories and an MSU branch library that receives over 200 journals and is staffed by a full-time librarian.
The building also houses an auditorium; offices for faculty, postdocs, and project staff; three graduate student offices with multiple carrels; 5-6 classrooms; a biological collections room; and supporting service areas.
Service areas include a darkroom, dedicated rooms for isotope counting and for CN analyzer analysis, a microscope room, an autoclave area, a room for environmental chambers, a computer workroom, and common-use labs dedicated to electrophoresis, GIS, and image analysis. Additional areas include wet and dry laboratories for field sample processing, a grinding room for soil and plant tissue grinding, and rooms for walk-in coolers and drying ovens.
Library
Digital Technology
KBS Computer Services is staffed by 1.6 FTE Computer Services Professionals.  The central equipment hosts file and backup services for the servers and desktop computers on the network.  Server disks are backed up nightly and backup tapes are rotated to safe storage locations in other buildings.  Central services also include e-mail and network printer services.  Network printers include a 42-inch wide-format printer.
Common-use computers include 17 MSU Microlab computers managed remotely from the main campus, which make available for students and researchers such software as as SAS and Mathematica, which would be difficult to afford and manage otherwise.  These computers are located in a small classroom and in the library.
A 1Gb fiber optic connection provides access to the Michnet backbone network.   Most of the buildings at the Gull Lake site and at outlying locations are connected by fiber optic ethernet.    A few others are connected to the main network by point-to-point wireless.  MSUnet Wireless service is available at most buildings.
There are two rooms equipped with Polycom HDX videoconferencing equipment.
Instrumentation
A number of analytical instruments are housed within the Academic-Stack Buildings.  Common-area instrumentation includes floor centrifuges, autoclaves, a muffle furnace, plant and soil sample drying ovens, a grinding lab with Wiley, impact, and roller mills, walk-in coolers, a walk-in 25-degree incubator, a hydro-pneumatic root elutriator, and several controlled-environment chambers.
Instruments not in common areas remain available to KBS researchers on a negotiated basis as a matter of policy and collegiality. If you have need of a sponsored instrument, contact the responsible faculty member.  Arrangements can be made for providing access to an instrument or analysis, although limitations related to sample backlogs, instrument complexity, and operating costs may sometimes restrict access to specific instruments at some times.
The following equipment is available; please the KBS Stock Room at stockroom@kbs.msu.edu to learn who to contact for access to specific instruments.
Several short- and long-pathlength spectrophotometers, most often used for colorimetric analyses of nutrients in surface waters and soil solutions;
Several gas chromatographs equipped with TCD, FID, and ECD detectors, used for analyses of CO2, CH4, N2, and N2O in studies of dissolved gases, gas emissions, and microbial processes;
Several infrared gas absorption (IRGA) analyzers for measurement of CO2, used for quantifying in situ gas fluxes and for soil and microbial incubations;
A liquid scintillation counter, used for radioisotope assays;
Multisensor sondes to measure dissolved O2, pH, conductance, and temperature in field measurements of aquatic habitats;
A photoacoustic trace gas analyzer, used for real-time field measurements of N2O, CO2, and CH4 fluxes;
A high-vacuum line and gas preparation bench for manipulation and purification of gas samples;
A Costech Model 4010 Elemental Combustion analyzer for the analysis of total carbon and nitrogen in biological samples;
An Alpkem/OI Analytical Flow Solution IV analyzer (Model 3550) to measure concentrations of nitrate and ammonium in soil extracts;
A Dionex Model ICS-1000 Ion Chromatograph (IC), for analyzing ions in water samples;
A Shimadzu Model TOC-V total carbon analyzer for measuring dissolved carbon in aqueous samples;
Two sub-meter Trimble GPS units for field use, including base station support;
Standard lab equipment such as microscopes, balances, pH meters, and data loggers.
Research Field Sites & Labs

KBS offers a variety of unique sites for research.
Greenhouse
A 3600 sq. ft. greenhouse complex is located near the Academic building.
Originally built in 1920's by W.K. Kellogg, it was extensively remodeled in 1986, 1996, and 2006. The greenhouse has seven separate growing rooms; all are equipped with 1000W high-intensity discharge (HID) lighting, modern microprocessor-based temperature controls, modern automatic rack and pinion vent controls, vent screening to reduce pest entry, and both well and reverse-osmosis water.
There is also an attached two-story head house with growth chambers and potting facilities. Greenhouse use is coordinated by Jeff Conner

Field labs
A lakeside laboratory, which was the original estate boathouse located on Gull Lake, was renovated in 1980 to provide year-round research space for visiting and resident researchers. It includes a wet laboratory and dry laboratory on the ground level, and a dry laboratory and research cubicles on the upper level.  Offices and labs in this building are connected to the KBS fiber optic backbone.
Additional field laboratories are also available on site.  These laboratories were developed to provide convenient access and support for sampling the diverse habitats available at KBS.  They include the Plant Ecology Lab, the Terrestrial Ecology Field Lab, and the Pond Lab.

Experimental Ponds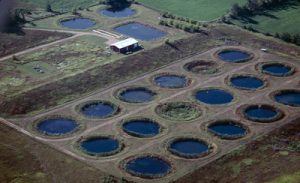 The
KBS Experimental Pond Lab Facility
contains 18 experimental ponds, two holding ponds and a reservoir, in addition to lab space and cattle tanks for smaller experiments.
W.K. Kellogg Farm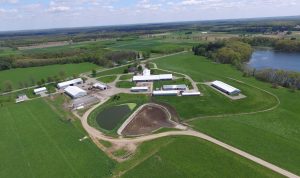 The W.K. Kellogg Farm supports the needs of researchers by offering the use of land, equipment, facilities and labor for long-term and short-term research.
Researchers have opportunities to conduct long-term studies within the context of major research programs, including the Pasture Dairy Center, the Michigan Cover Crops Program, LTER, GLBRC and crops research.
Field laboratories are available for researcher use, as well as basic row crop and forage equipment. Labor support is available on a case-by-case basis.
Interested researchers should contact Farm Manager Dr. Brook Wilke (wilkebro@msu.edu and 269-671-2509).