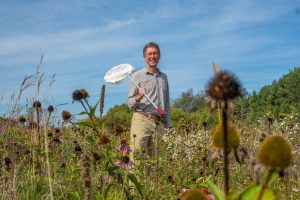 As KBS was looking for someone to lead its Long-Term Ecological Research (LTER) projects, Nick Haddad saw it as a perfect opportunity to continue the research that has defined his career. Haddad arrived at KBS in 2017 and on March 25th will share his research at our Dessert with Discussion event titled The Last Butterflies.
During the talk, Haddad (Professor W.K. Kellogg Biological Station and Department of Integrative Biology) will explore topics from his upcoming book of the same title, as well as:
the causes of butterfly decline (including of three endangered butterflies in Michigan)
the research and science behind butterfly recovery
the search for the rarest butterfly in the world!
For over twenty years Haddad has led the Conservation Corridors project, studying rare butterflies in the world. One, the St. Francis' Satyr, lives only on one army base and mainly within artillery ranges. Another, Miami Blue, lives on small, remote islands west of Key West. His experimental research on the rarest butterflies has advanced methods for restoration and recovery. Michigan is a natural place for new phases of his research, as we are home to three endangered butterfly species.
Haddad was recently featured in the The New Faces of MSU AgBioResearch FUTURES magazine, as well as the KBS 2017-2018 Annual Report and video highlighting the Haddad lab's first field season at KBS.