A primary concern of assisted gene flow—introducing individuals from a different geographical location to a small fragmented group of the same species to encourage genetic rescue—is disruption of local adaptation. A new study, published in the February issue of Current Biology, suggests that gene flow can produce substantial and long-term benefits to small populations without necessarily losing adaptive variation.
The study, conducted by W.K. Kellogg Biological Station researchers Sarah Fitzpatrick and Colin T. Kremer, among others, examined the evolutionary and demographic effects of gene flow on two small, isolated guppy populations in Trinidad, monitoring close to 10,000 guppies in total.
By integrating genetics, mark-recapture, and wild pedigrees, they first observed massive increases in population size after gene flow, and then found that hybrid guppies generally lived longer and had more offspring than the original resident guppies. Another MSU researcher, Gideon Bradburd, used genomic data collected before and after gene flow to show that genetic variants possibly associated with local adaptation were maintained despite high gene flow.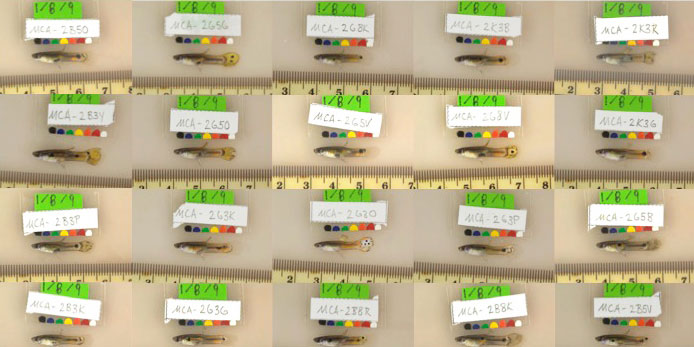 "The hope is that really detailed studies of genetic rescue on model systems like Trinidadian guppies will help inform conservation and management of imperiled species," notes Fitzpatrick. "Our study suggests that designing assisted gene flow programs for threatened populations may be feasible and promising."
Related articles
Going with the flow: Trinidad's guppy-filled streams provide natural lab for genetic rescue research | Jan. 6, 2020
Trinidad's guppy-filled streams provide natural lab for genetic rescue research | Jan. 6, 2020
Trinidad's guppy-filled streams provide natural lab for genetic rescue research | Jan. 7, 2020
Human-assisted migration for the genetic rescue of small populations | Feb. 18, 2020
Related research
New study examines effects of gene flow on individuals, populations, ecosystems | Dec. 10, 2019
Fitzpatrick Lab's research brings potential value of genetic rescue to the surface | Aug. 21, 2019