Falling in love with the W.K. Kellogg Biological Station was like meeting a mysterious person in a bar. I saw KBS for the first-time last summer; I was so captivated by the beauty that the idea of hard work was non-existent. Brook Wilke, who I now know as the W.K. Kellogg Farm manager and my summer mentor, was a name I recognized from MSU Extension's research on industrial hemp production in Michigan. During a tour with my seminar class, I could connect a name from literature to a face and personality. After the tour, I walked up to Brook and introduced myself with as much courage and confidence as I could find. I remember feeling like that introduction could be the beginning of the rest of my life. I told Brook that I was interested in an internship at the farm and that I was interested in industrial hemp as a field of study. Little did I know then that my dream of working with Brook, hemp, and the beauty of KBS would become a reality.
The internship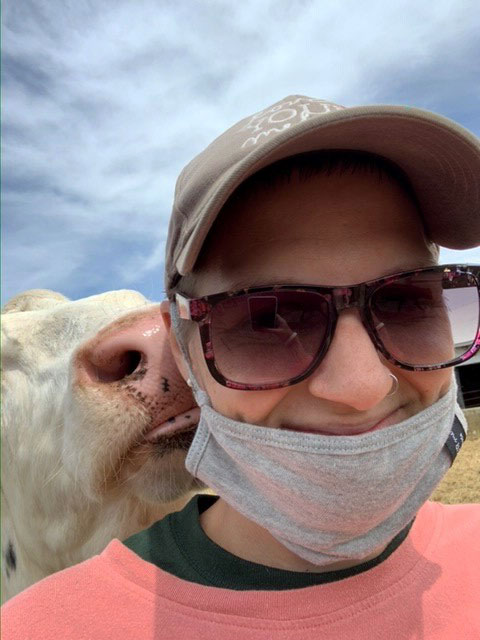 The summer started without my even being aware of the change in seasons. During the first day Brook and I switched gears more times than I can count, moving from one unintentional project to the next; from fixing a fence because we noticed it was broken to moving posts out of a field so a tractor didn't run them over. My reflection of that day reminds me of an email I received a week or so before my internship started, titled "The Importance of Stupidity in Scientific Research." I went home every night this summer pondering what I did that day and thinking, "How does this all add up? Why is this important? What is the end game here?" Even now, I still don't really know the answer to those questions.
My internship was focused on sustainable agriculture, leading to my understanding of cover crops, no-till farming, grain-based cropping systems, livestock grazing and forage production, and professionalism in the agriculture industry. This was accomplished with thanks to a number of people, including Brook, Dean Baas, Kay Gross, David Lowry, Karen Renner, Howard Straub and Will Wetzel. I think of these scientists as the brains behind the beauty that I know as KBS. I am hyper-aware of their presence and how they influence the daily tasks that are executed at the farm.
'Messy learning'
Together with the brains of KBS, I worked with graduate students like Kaleb, Andrea, and Etienne to get messy learning accomplished. These students presented me with the research that they were interested in and put me to work! Kaleb works for Karen Renner, who is an agronomist at MSU but also an advisor for students completing the crop and soil science program. Assisting Kaleb with sweaty (and once electric) work assisted in my understanding of cover crops, seed emergence and weed competition. Andrea works in the Wetzel Lab researching the manduca moth, or as it is commonly known, the tobacco hornworm. Will Wetzel's lab studies the ecology of plants and insects, integrating population and community ecology, plant biochemistry, and insect physiology and behavior. Andrea helped me understand how different chemicals can affect the feeding habits of pests. In this case, tomatoes as they relate to the manduca moth. Her theory suggests that different chemicals can be bred into plants to attract the pest as "bait plants" in a field leading the pests away from crops that are intended for harvest. This is a new approach to IPM, or integrated pest management. You can view a profile of Andrea's work here.
My biggest focus of the summer was on a project researching small grains, barley specifically. The barley trials at KBS are part of a larger national study where there are 15-20 sites nationally all studying the same plant. Rich Horsley and Kevin Smith are the barley breeders leading this research. I collected data such as heading dates and dates of maturity. Kylee, another summer intern, and I worked together on processing these samples to collect data such as moisture, density, and the weight of the sample. This is crucial information for farmers raising barley because the want to make a high-quality product (beer and spirits for those of you who didn't know!). The American Malting Barley Association and the Brewers Association fund research on barley, allowing KBS to not only participate in this research but to make national connections that are close to home and down to earth.
The summer was not all work and no play. There were days that Kylee and I would take the gator for a drive around the Long-term Ecological Research site or go sit on the shore of Gull Lake and watch the birds come and go from the Bird Sanctuary. There was an unforgettable night that we met at the Pagoda Garden to watch the comet NEOWISE. We also got to see Jupiter and one of its moons along with Saturn thanks to a friend and his high-powered hunting scope! I played fetch with a dog while collecting switchgrass samples and ran through more than one irrigation system on the hotter days!
Captivated last summer by the beauty of the farm and entranced by the personality that shines through the work being done daily, I can't help but continue to fall in love with agriculture science, research and KBS.
~~~~~~~~~~~~~~~~~~~~
Alyssa Schuck is the 2020 KBS sustainable agriculture intern. She studies agriculture technology at Michigan State University and Kellogg Community College.
~~~~~~~~~~~~~~~~~~~~