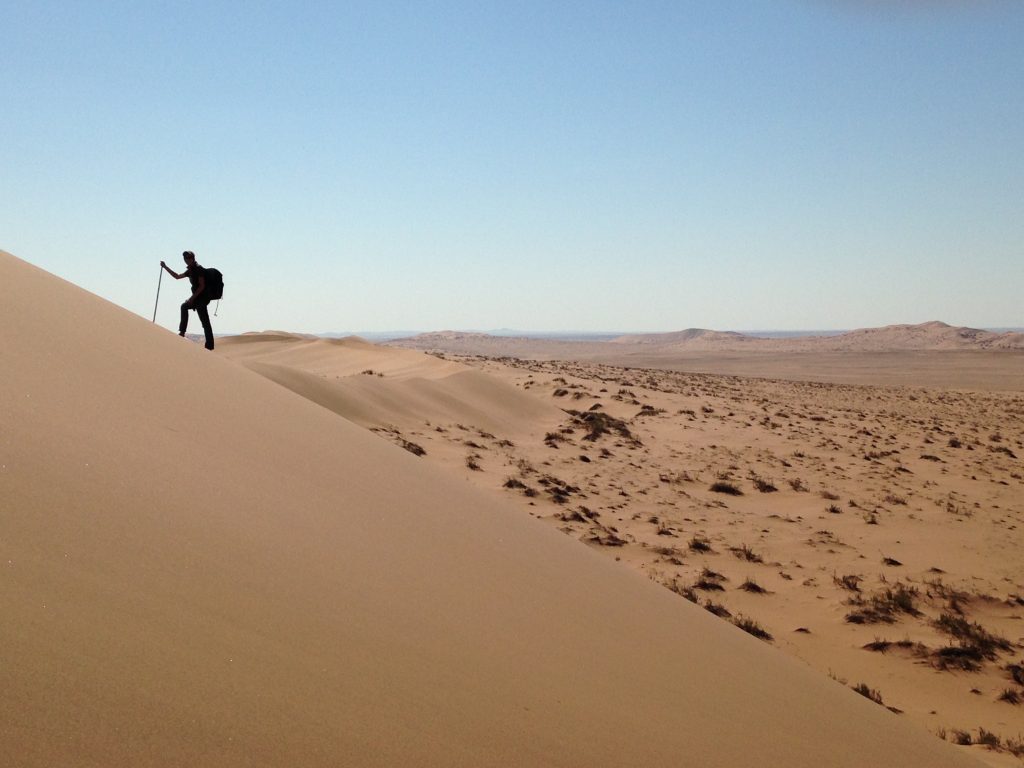 In June 2016, Sarah Evans (KBS Assistant Professor), Robert Logan (KBS Graduate Student) and I went to Namibia (a country on the west coast of Southern Africa). Sarah and Robert were studying various other exciting things but I will focus on my reasons for going. For much of the trip we were based at Gobabeb Desert Research and Training Centre which is on the edge of the 'Namib Sand Sea' within the Namib Desert in Namibia.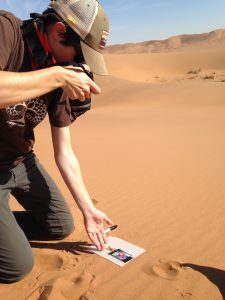 I was there taking genetic samples from a really cool lizard called the Shovel-snouted lizard (Meroles anchietae) for a project studying connectivity patterns and local adaptation throughout the range of this species. These lizards are desert extremists that tolerate really high temperatures and can survive on very little food or water and they are only found on the slip faces of the tall sand dunes.
I am planning to use genomic data to study patterns of genetic variation among and within populations and to determine the molecular basis underlying adaptation to such an extreme environment.
One of the first things I had to learn was how to actually catch these lizards that are incredibly fast and can disappear into the loose sand when they are startled. They really make you work for it — you have to chase them up and down the steep dunes until they bury themselves. Then you find the half-moon shaped crescent where they have buried themselves and then you dig like crazy and hope to come up with the lizard.
This was my first trip to Namibia and I totally was in awe of the dramatic desert landscapes and the biological community that has become amazingly well-adapted to such an extreme climate. Spending the days exploring the dunes and catching lizards also was a good break from computer work and got me thinking about my larger research and career goals. I also got to know a new biological system — these shovel-snouted lizards — that I hope to continue working on.
Dr. Sarah Fitzpatrick is a Postdoctoral Research Associate at KBS, specializing in evolutionary ecology and interested in applying her research to the conservation of wild populations and biodiversity. To learn more about her research, visit her website.