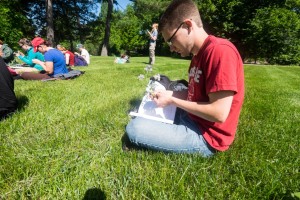 We offer a range of opportunities for undergraduates at KBS during the summer, including Summer Courses, Undergraduate Research Apprenticeships (URA), Research Experiences for Undergraduates (REU), and Internships.
KBS summer undergraduates have the opportunity to live at KBS and gain a full summer of experiences and new friendships at beautiful Gull Lake.
Click here to see what KBS URA, William Davie, had to say about his Summer 2015 KBS experience!
All 2016 Undergraduate Summer Courses and Programs will run from May 23 to August 5, 2016.
For questions about the undergraduate programs please e-mail KBSsummer@kbs.msu.edu.
Summer Courses
Undergraduate Research Apprenticeship – for MSU students
KBS Internships - for MSU students
Research Experiences for Undergraduates (REU) Program - for non-MSU students