Date/Time
Date(s) - 04/18/2017
8:00 am - 4:00 pm


Download Event iCal
Location
Auditorium (312)
Categories
Thank you to the 48 teachers and 12 presenters that participated and made this workshop possible!  Please find below resources related to sessions.
Resources (presentations and handouts)
Plenary Speaker: Dr. Kay Holekamp, University Distinguished Professor, Michigan State University The evolution of intelligence in mammalian carnivores.
K. Holekamp Plenary Presentation
Brain size predicts problem-solving ability in mammalian carnivores
History of the W.K. Kellogg Bird Sanctuary
Organizers: Lisa Duke (Bird Sanctuary Manager)
Join Lisa Duke of the W.K. Kellogg Bird Sanctuary to learn why the Sanctuary was established,  what we have accomplished in the past 90 years, and how we honor Mr. Kellogg's commitment to conservation, research, and education to this day!
Building a Biological Battery: Electric Fish Know WATT to Do!
Elementary School – Organizers: Savvas Consantinou &  Mauricio Losilla (MSU PhD Students)
Six groups of fish have independently evolved an adaptation that allows them to produce, and sense, an electric field outside their bodies. How electricity is utilized varies among the groups; most fish are "weakly" electric and a few can produce strong electric fields. In this session, you will learn about how electric fish are a great model organism for teaching evolution. We have prepared a short informational talk about electric fish and an activity where children get to color and draw, then use batteries to learn more about the evolution of electric fish.
The MultiSpeQ: Measuring Photosynthesis in the Classroom                                                                  
Middle & High School – Organizers: Klara Scharnagl (MSU PhD Student) & Dan TerAvest (MultiSpeQ Representative)
Photosynthesis is a complex process that can often be difficult to describe in the classroom setting. But what if students had a way to measure photosynthesis in the palm of their hand? Being able to measure photosynthesis using exploratory and hands-on approaches will enhance students' understanding of this fundamental process. In this workshop we will introduce the MultiSpeQ and explore different classroom questions.
Barcodes in water: using eDNA to monitor rare and invasive species                                                  
Middle & High School – Organizers: Dustin Kincaid (KBS K-12 Fellow) & Arial Shogren (Notre Dame PhD Student)
Understanding the geographic distributions of rare and invasive species is crucial for biodiversity conservation and ecosystem management. Traditional field surveys of aquatic species are time intensive, require expert taxonomic skills, and can overlook rare and secretive species. Researchers are now using environmental DNA (eDNA) to increase their ability to detect species in aquatic environments. In this session we will (1) learn why and how eDNA methods are being used to complement traditional survey methods, (2) demonstrate DNA extractions using a simple lab protocol, and (3) introduce a Data Nugget that demonstrates how researchers use eDNA to monitor salmon populations in river basins.
Coming Soon!
Grass-fed Cars: Learning about Biofuels at the GLBRC
High School – Organizer: Joyce Parker & Craig Kohn (MSU & Great Lakes Bioenergy Research Center)
What does sustainable agriculture look like?  How do we balance the need for high yields with the environmental impacts of agriculture?  Come take part in hands-on classroom activities that use the NGSS scientific practices of implementing investigations, analyzing and interpreting data, asking questions, and making arguments from evidence to answer these questions and explore the impacts of agriculture, biofuels, and standard fuels on the environment and biodiversity.
Grass Fed Cars Handout Swan Data Nugget
Fun with the Sun: Patterns from the Sky
Elementary School – Organizers: Kara Haas (Science Education and Outreach Coordinator)
The earth's rotation around the sun is a difficult concept for many K-5 students, but shadows are fascinating!  New Michigan Science Standards allow teachers to leverage student's natural curiosity and build knowledge across the grade levels.  Participate in several shadow activities (created by teacher participants in the Teaching Science Outdoors program) that incorporate measuring, literature, mapping skills, etc.
Warming Up with Greenhouse Gases  
Middle & High School – Organizer: Will West (KBS Post-doctoral researcher)
Climate change, the long term change in global weather patterns, can be difficult to demonstrate in the classroom, but this session will help overcome those challenges!  In this exciting demonstration you will learn how to easily show how greenhouse gases trap heat in our atmosphere. You will walk away from this session with a presentation, worksheet and activity that will help middle and high school students understand how gas properties contribute to the process of global warming.
Warming Up with Greenhouse Gases
Warming Up with Greenhouse Gases Lesson Plan
Lesson Plan Diagram 1 Warming Up with Greenhouse Gases
Bacterial Population Dynamics with Beads & Bracelets
Elementary School – Organizer: Heather Kittredge (KBS K-12 Fellow)
There is natural variation in every population, but it is not always clear to K-5 students that this variation is the basis of evolution by natural selection.  In this fun and hands on activity, students will gain a better understanding of how variation in a population of beads and pompoms leads to evolution. By the end of the activity students will have a bracelet featuring generations of outcompeted 'bead organisms'!
Link to related high school lesson plan
Overview of the workshop:
The 2017 Spring K-12 Partnership Workshop is right around the corner!  Join us at KBS on April 18, 2017 to learn  what is happening at the cutting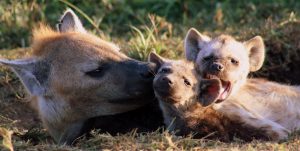 edge of research in ecology and evolution.  In keeping with this idea, the theme this spring will be The Kellogg Edge: breaking boundaries in ecology and evolution education.  This year KBS celebrates 90 years and we plan to continue our tradition of excellence with a full day of sessions featuring cutting edge technologies and forward thinking research. This includes an exciting plenary talk by MSU Distinguished Professor of Integrative Biology, Dr. Kay Holekamp. For almost 30 years now Dr. Holekamp has been dedicated to studying the behavioral ecology and evolution of Hyenas in Kenya.  If you want to learn more about Spotted Hyenas or other research in the Holekamp lab, you can check out the Holekamp lab website and join us on April 18th to hear about The Evolution of Intelligence in Mammalian Carnivores!
This spring workshop we will also feature several new sessions, including an  introduction to the MultiSpeQ, a cool new device that measures photosynthetic rates in the classroom.  In addition, we will have a session that uses batteries to model how electric fish have evolved the ability to put out an electric charge.  Do not miss out on attending these exciting sessions and more. Sign up today for the 2017 Spring workshop!
Who: K-12 teachers
When: Tuesday, April 18, 2017 from 8am-4pm
Where: Auditorium, Kellogg Biological Station, 3700 East Gull Lake Dr., Hickory Corners, MI 49060
SCECHs: 6 SCECHs
Costs: Program is FREE. Sub costs will be reimbursed for Fall and Spring workshop participants. One form per school building/district. Form can be found here: https://www.kbs.msu.edu/outreach/kbs-k-12-partnership/workshops-and-institutes/. Please return the form with an INVOICE from your school district. Invoice must include the name of the teacher, name of the sub and the pay rate. Email (karahaas@msu.edu) or mail to Kara Haas, KBS, 3700 East Gull Lake Drive, Hickory Corners, MI 49060.
Workshop coordinated by Heather Kittredge, 2016-17 KBS K-12 Partnership Fellow
New to the Partnership?  Learn more here.